Have you ever wondered what makes a man or woman happy in relationship? What is food for love? Did you ever feel like your relationship is going stale or lacking appreciation? Are you longing to give and receive love in a way that opens you to more love?
There are basic nutrients for love in a relationship such as authenticity, love, connection, care, trust and respect, attraction and enjoyment of each other. And then there are the gourmet delicacies that increase the love and the polarity of masculine and feminine essence.
What is food for love for the feminine essence is different to the masculine essence. Of course, it's an individual thing too, but there are preferences that often apply. Here are some ways you can feed and nourish your beloveds, whether you are in a relationship or single. If you are single, you can gift a friend of the opposite sex.
"making the extra effort will open her like a flower"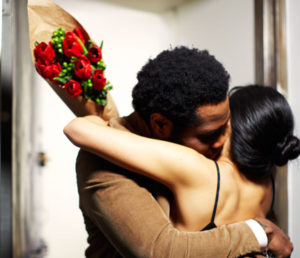 What is the FEMININE ESSENCE food for love? There are lighter or darker offerings on the spectrum, depending on the person and what energy she may want to liberate. As her primary need is for love, the way to nourish and delight her is through loving her. Men often say, 'Of course I love her, I'm committed and look what I do for her every day'. And yet making the extra effort will open her like a flower, her radiant smile and bodily openness will reward you. Women, you can appreciate his intentions and efforts even if he doesn't get it exactly right.
The feminine generally loves tender kisses, love-notes either given or left for her to find, verbal appreciation of her beauty, small and frequent gifts of jewellery, perfume or other romantic things (could be an object from nature that doesn't have to cost a lot) and occasionally large gifts.
Make your gifts romantic rather than practical, or include a romantic gift. What enhances her radiance? While she will love you giving her car seat covers, a new laptop or a pushbike, she will be more delighted as a woman by a romantic gift like jewellery, that tells her she is your special woman.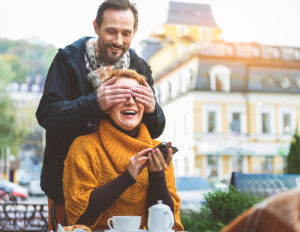 "beauty for its own sake"
If you are not sure what she likes, take her shopping, or ask her closest woman friend to help you. Flowers are lovely on special occasions, but an unexpected, lush bouquet on the table when she comes home will delight her with its burst of beauty. For the feminine it's not about being utilitarian but about beauty for its own sake.
Perhaps you have the inspiration to write a poem or a song about her. She will love it even if you are not so skilled. Or have a special night out together, where she can see how much planning you have put into it for her to enjoy.
Anything that shows her that you really see her, that you notice what she likes and that you pay attention.
"edgier offerings can also open her"
For a woman, obviously, it's not just romantic things that delight or surprise her, but edgier offerings can also open her. Going a little darker, you can gift her with sexy lingerie, but only if she will enjoy wearing it.Or surprise her with a sex toy to start an erotic adventure, if it's for her pleasure. And naturally you will enjoy it too, but that's not the goal.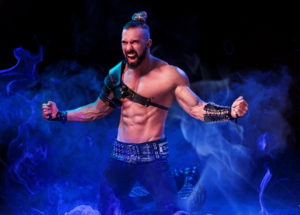 A man doing a striptease, showing his masculine power with his heart wide open, will energise her, and is a lot of fun to watch. If she completely trusts you, you could blindfold her and drive her to a secret location where you have prepared an erotic encounter to ravish her.
Food for love for the feminine essence is also when you fix something for her. The broken clasp on her favourite necklace, the bike tyre puncture that she hasn't gotten around to dealing with, whatever brings wholeness and ease to her life. And if she is very stressed, you can take a job off her and do it simply and easily. Unburdening the feminine releases her fragrant love-light.
"honour his masculinity, whichever way he chooses to take it"
What is the MASCULINE ESSENCE food for love? Most men have primary needs for love, freedom, and being on purpose in his life. One way to gift him is through trusting him, and freeing him. Honour his masculinity, whichever way he chooses to take it. Trusting his mission will gift him deeply. If you don't trust him, tell him directly why not and leave him to sort it out.
Challenging him in a way that calls him to his higher self, where he is learning about himself, is also a gift to the masculine. Showing him your loving power and wisdom in this way is food for him.
A man loves to be listened to – let him share what troubles him. Let him reveal his vulnerabilities without judgment. Being accepted and loved whether he is successful or not is food for the masculine.
Most men love to be honoured and appreciated. If you notice and acknowledge when he does things that you like, even practical jobs that he contributes, it will remind him how valuable he is to you.
Make it easy for him to be alone sometimes, or with his male friends, without feeling guilty he's not with you.
For the masculine, he may like to receive gifts, but often he feels burdened by things and clutter. Gift him an experience, like a concert by his favourite band, or a sporting event he will be into, or an extreme sport like skydiving (unless he has a fear of heights). He will feel seen if you remember something he mentioned in passing. Making him something yourself shows your devotion to him, that you will put a lot of time and effort into making.
"unexpected, sexy surprises takes him out of the ordinary"
Unexpected, sexy surprises take him out of the ordinary, into freedom and feeling wow! This can be done with light or edgier energy. You could dance for him, healing him with your sexy angelic light, or you could do a seductive 'striptease' enlivening him with your darker sensuality. Dressing up in different ways will also captivate him with your ever-changing moods.
Occasionally invite him to step out of the socially defined role of man, focused on achieving and doing, and into a passive, receptive state. This could be through delighting his senses, a loving massage or an erotic play where he is sexually surrendered. Taking him into nature and making love to him outdoors would be very cool for some men.
These offerings that nourish love and polarity will not only ignite and delight your partner but you will also have fun giving them.
I hope you explore this food for love, and sexy snack ideas, and that you are inspired to gift to your beloveds.
I'd love to hear how you already do this, or what happens when you do. Please share in the comments below.
…………………………………………………………………………..
To learn about loving and gifting, and much more, with a group of willing, aware, loving people, come to the profound and practical teaching to enhance relationships:
THE LIVING LOVE FOR SINGLES & COUPLES WORKSHOP 
If you would like more information about a private session emailt: info@livinglove.com.au or text +61 408 205671 to make a time by Skype, phone or in person.
Appreciating you with love and trust,
Cynthia