We have had a lot of interest and enquiries for the LIVING LOVE ADVANCED DAY – in Byron Bay on Sun Nov 12. It's a busy time of the year and we are keen to firm up who is coming in this early bird stage (ends Monday Nov 6).
So to help you act now THE NEXT 5 PEOPLE WHO BOOK IN receive a FREE GIFT for you or a friend of the  DVD 'The Secrets of Sacred Sex'.
 Registration & Payment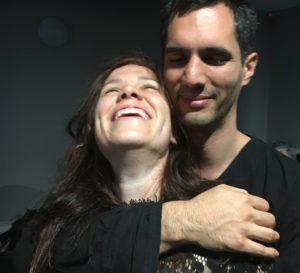 WORKSHOP DETAILS
Are you a Living Love for Singles & Couples workshop participant and have wanted to taste more advanced levels of this work, while connecting with others who really get you?
After an exhilarating Advanced Day in Sydney recently, now there is an opportunity to do a Living Love Advanced Day in Byron Bay, NSW, on Sunday November 12, 2017.  It is only for those who have done the  weekend workshop.
The Advanced Day will be a journey into your sexual essence and the interplay of masculine and feminine energies. It will be a combination of sacred circle and advanced polarity practices between men and women. Going to your individual edge in an exciting yet profoundly reassuring way.
One powerful aspect of the work is that it creates a rare, safe space for men to be fully present in their Masculine and received by the feminine, and women to be fully open in their Feminine and loved by the masculine. In this Advanced Workshop, the embodied teaching invites you to let go even more into the free fall of Love and Freedom. Learning through practices how you inhibit that expansion in your body, heart and soul is great medicine for healing, enlightened humour, and sacred connecting.
Having already done the Living Love weekend, the participants will build on their learning, in the company of a committed group. This Advanced Day is designed for both couples and singles to dive into the magic and mystery of intimate communion.
There will be time for individual work in the Living Love circle format, which is deep, vulnerable and playful!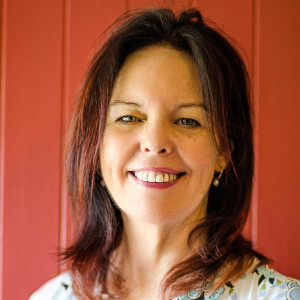 Cynthia Connop is the founder and facilitator of Living Love workshops. She loves to offer the more advanced practises with keen participants. Resistance and obstacles are part of the journey, and this workshop asks you to use these as fuel for growth and to be available to yourself and others.
"I recently participated in a Living Love Advanced Day that Cynthia facilitated in Sydney. I hadn't done any Living Love workshops for several years, but the moment we started talking and doing exercises I felt right at home. The participants are all there to love and support one another and Cynthia's gift as a facilitator is very apparent in this setting.
Prior to the workshop, I was going through some heavy emotional stuff and was pretty dark on myself and the world. Having done some of the exercises, we had an open circle and I had an opportunity to work through some very deep emotional scars. Being a mature 'Aussie bloke' I find it extremely difficult to cry, but in this workshop I felt safe enough to openly sob in front of a loving group of fellow participants. It was an extremely cathartic experience for me that has created lasting change in my life. I will definitely be participating again." David Grainger, artist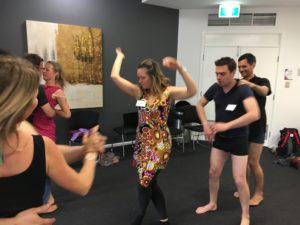 The year-long Living Love Training program was previously the only format where you could experience the more advanced practises of the Living Love program. Now some of these teachings and practices will be available at this one day workshop for men and women.
"Living Love's Advanced Day deliciously and playfully softened my edges to reveal the masks I wear in life, why I wear them and how to let them go. This led to a space for deep healing and transformation to take place within myself, and a chance to embrace and dance with my true feminine essence.
I left feeling radiantly alive and open to love and also left feeling an ever-deeper appreciation for my husband and the beautiful life we have created together. Thank you Cynthia for sharing your fun, loving and profound work and knowledge with us." Kate Rainer Callaghan, mother, educator
LIVING LOVE WORKSHOP – INFORMATION
Living Love Advanced Day – Sunday November 12, Byron Bay. 9.30am to 5.30pm
Early bird by Nov 6 $247 pp and $444 for a couple or a double (a man and a woman booking together). After Nov 6, $297 pp and $544 for a couple/double.
Enquiries call or text 0408 205671 or email: info@livinglove.com.au.
Early registration will secure your place.
** special offer THE NEXT 5 PEOPLE WHO BOOK IN receive a FREE GIFT for you or a friend of the DVD 'The Secrets of Sacred Sex'.
You can also leave a message below with any questions you have: