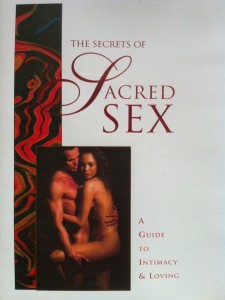 The Secrets of Sacred Sex DVD – A Guide to Intimacy & Loving
This beautiful DVD is produced and directed by Cynthia Connop, maker of the feature documentary Sacred Sex. In The Secrets of Sacred Sex DVD you will learn the secrets of sacred sexuality and discover an art of loving and relating that will transform your lovemaking into a truly intimate, fulfilling sexual experience.
Based on ancient Tantric lovemaking practices and secrets, combined with modern research, this remarkable program teaches you how to awaken your own natural sexual energy and experience a deeper intimacy and connectedness with your lover and  partner.
Beautifully filmed in exotic settings with visual but sensitive explicitness, you'll be guided by six engaging, real-life couples who share and demonstrate methods adapted for Western lovers in sacred sex lovemaking. The DVD includes the wisdom of tantra experts from the Australian School of Tantra, Kerry and Diane Riley, and Christine Niyaso Carter from Sacred Loving USA.
You'll explore over twenty techniques to enhance pleasure and deepen intimacy including: sexual breathing and movement, erotic touch, awakening the senses, sexual dialogue, self-pleasure, expanding orgasm and positions for ecastic lovemaking.
Reviewed by "Tantra Magazine"  USA as 'the best in this field.'
This DVD uniquely combines ways to enhance sexuality with understanding and practices that deepen and soften your connection with each other. It draws on the concept that fabulous sexuality is based on oneness, connection and sacredness.
The Secrets of Sacred Sex DVD
Duration 74 mins
R-rated for 18 years & over
Cost: $39.95 + postage.
Click on button below to buy now.
*** HOLIDAY TIMES The office closes from Dec 21 to January 10 for DVD mail outs so if you order between these dates it will be mailed out to you when we return on Jan 10.
****NORMAL TIMES Your Secrets of Sacred Sex DVD will arrive within a week to ten days, in Australia. Postage times for international orders are subject to delivery times to and within your country etc.
For all enquiries, please contact us.